December 1, 2013
After many, many years, this site is finally getting a new look and feel!
The new logo, layout and colour scheme bring the site into the modern age but still retain elements from BtN's past design. The new layout should improve compatibility on mobile devices.
The menu bar contains the links that could formerly be found only on the main page. There are four menus ("Names", "Interact", "Tools", and the user menu at the far right); hover over them to expand the options.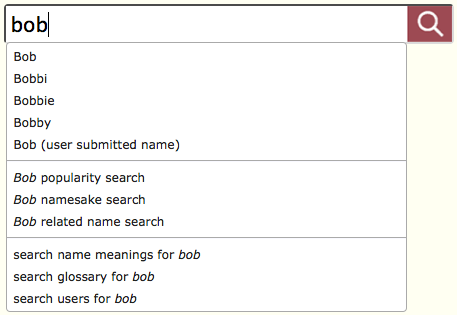 The new search box on the home page or in the menu bar will largely replace the advanced search page. Simply type a few letters into the box and names beginning with those letters will be presented. You can use the arrow keys or the mouse to choose from among them. You can also choose to search the name popularity charts, the namesake lists or the name days, or you can search within the name meanings or name glossary. As well, you can type phrases such as "female Polish names" or "Japanese boy names" into the search bar as shortcuts to the name lists.
For those looking for the "missing" search by meaning from the toolbar, follow these steps:
type the meaning into the toolbar search field. Do NOT press enter.
a popup will appear. Use the arrow keys or the mouse to select "search name meanings for ...".
The visual design was created by Jason Gerard Clauss, who took it upon himself to thoroughly learn the ins and outs of the site and gave me a lot of great advice beyond the visuals. Jason has also created a new design for the name pages, which I will be implementing soon(ish). I received a ton of beta testing help over the past few months from a few dedicated users: Mar, mirfak, Kate and Lucille. I would especially like to thank Mar for her keen attention to detail.
Hopefully everyone finds the site a bit easier to use and a bit more attractive. As usual, if there are any problems, use the "contact" link at the bottom of the page to send an email.